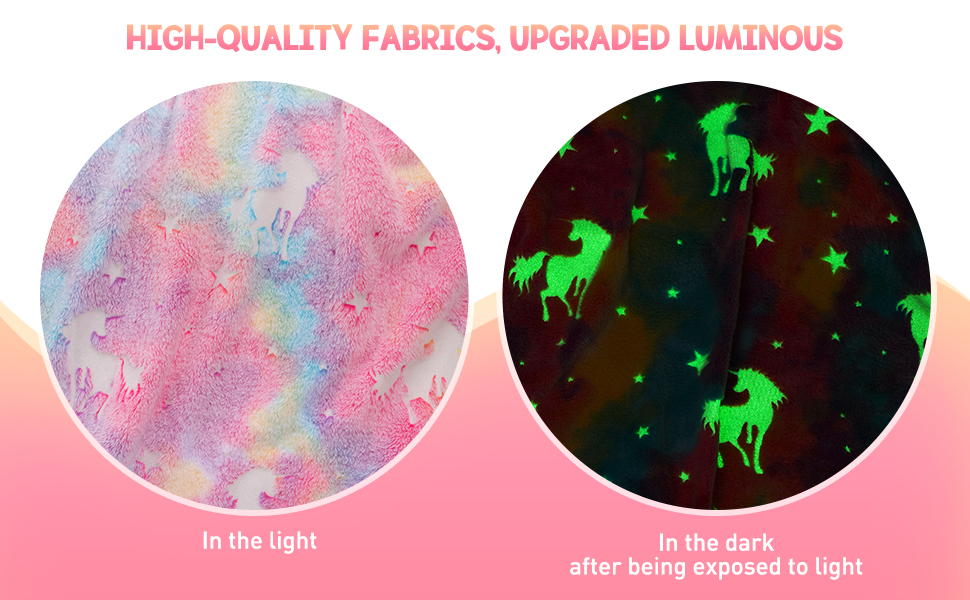 How to make it glow?
Simply expose the blanket under sunlight or a bright light source for 15 minutes, and it will glow for at least 6 hours!
Expose the blanket to sunlight or a strong light source. The longer it absorbs the light and the stronger the light, the brighter it will shine.
Take the blanket to the dark room and watch some bright and magical fun.
Kids all love Unicorns Stars and Rainbow.
Glow in The Dark Blanket is a cool gift and great encouragement for children.
Kids need snuggle blanket to make them feel, cozy, warm and happy. Girls love the cute unicorns on the blanket.
Beautiful pink and blue are children's favorites, it will bright up children's cozy bedroom.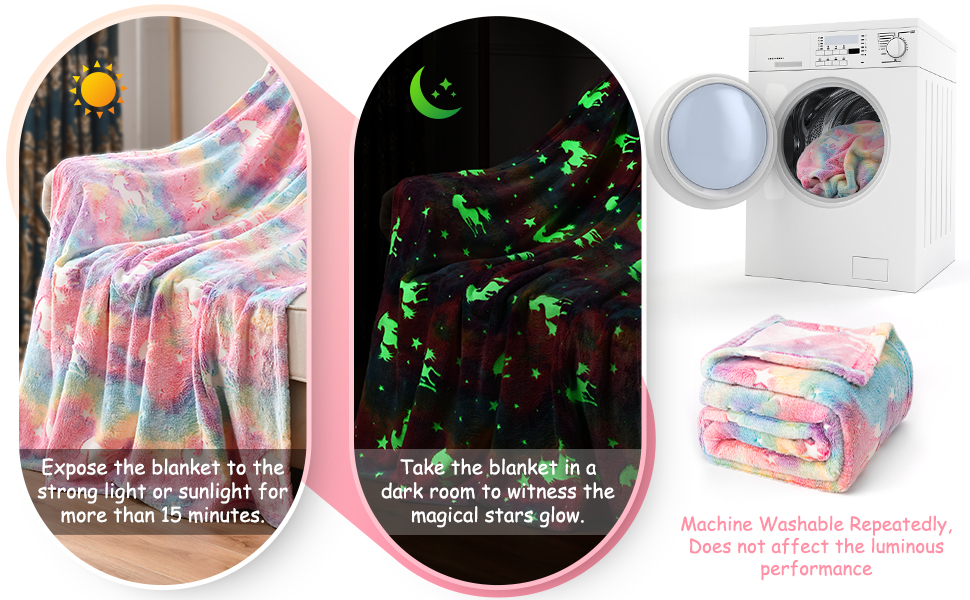 Glow in The Dark Blanket - The Most Unique Gifts for Birthday, Halloween, Thanksgiving Day, Christmas for Kids.
The Pretty Unicorn Blanket is perfect gift for Birthday, Halloween, Christmas, New Year and any occasions and festivals. It also makes a great gift to take on a plane journey or long car journey.
This special Unicorn blanket is Super Soft and Cozy. Kids can take it anywhere and it will always make you feel happy and warm. It can be used at home, as a throw on a bed, on holiday, in the car, camping and most definitely for movie night on the couch!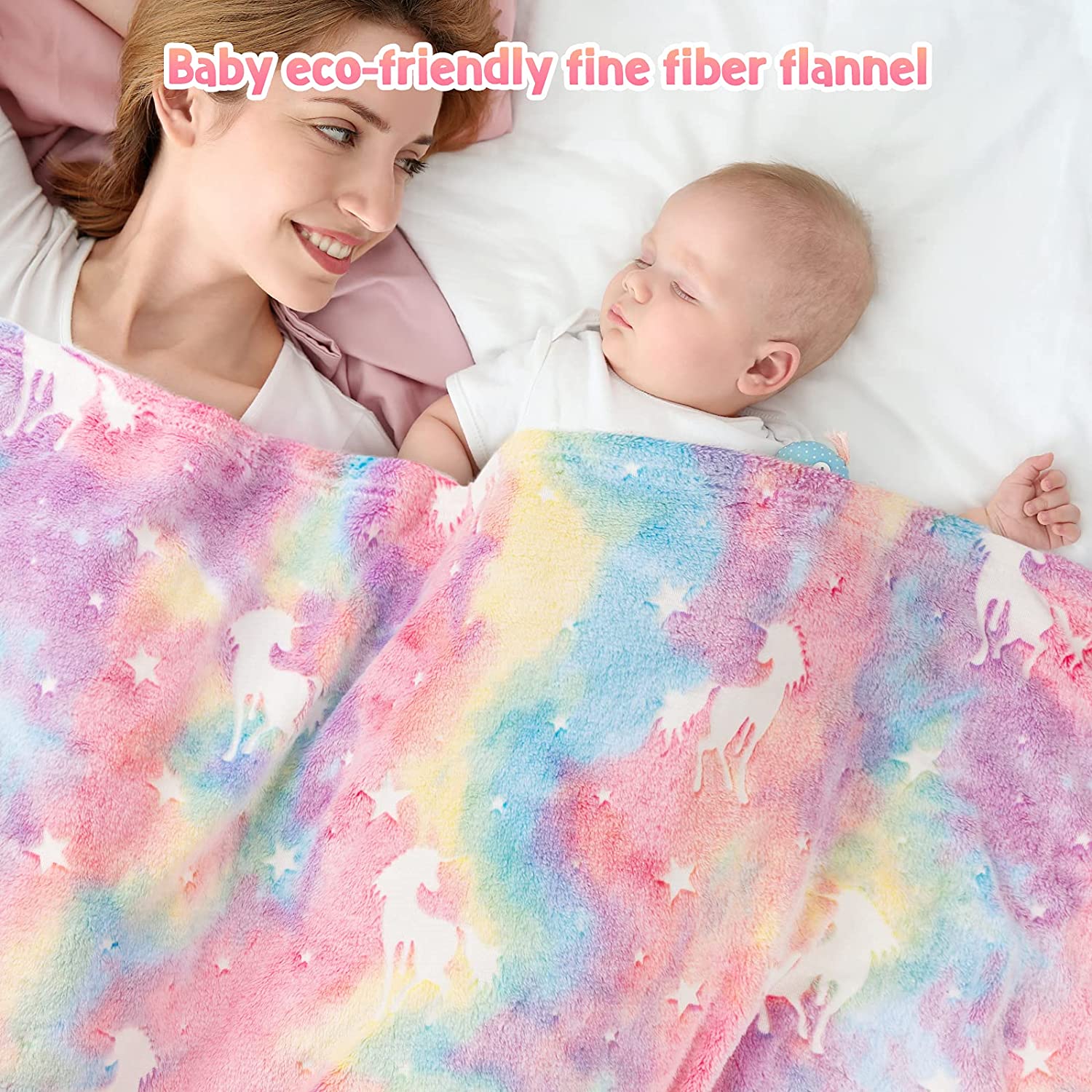 High Quality & Beautiful Color
100% Polyester - Super Soft Plush Fabric. Made of Premium Fabric, Super Soft Cozy and Warm, Durable, Breathable and Antistatic. This skin-friendly fine fiber ​plush flannel blanket providing extra soft comfort for kids.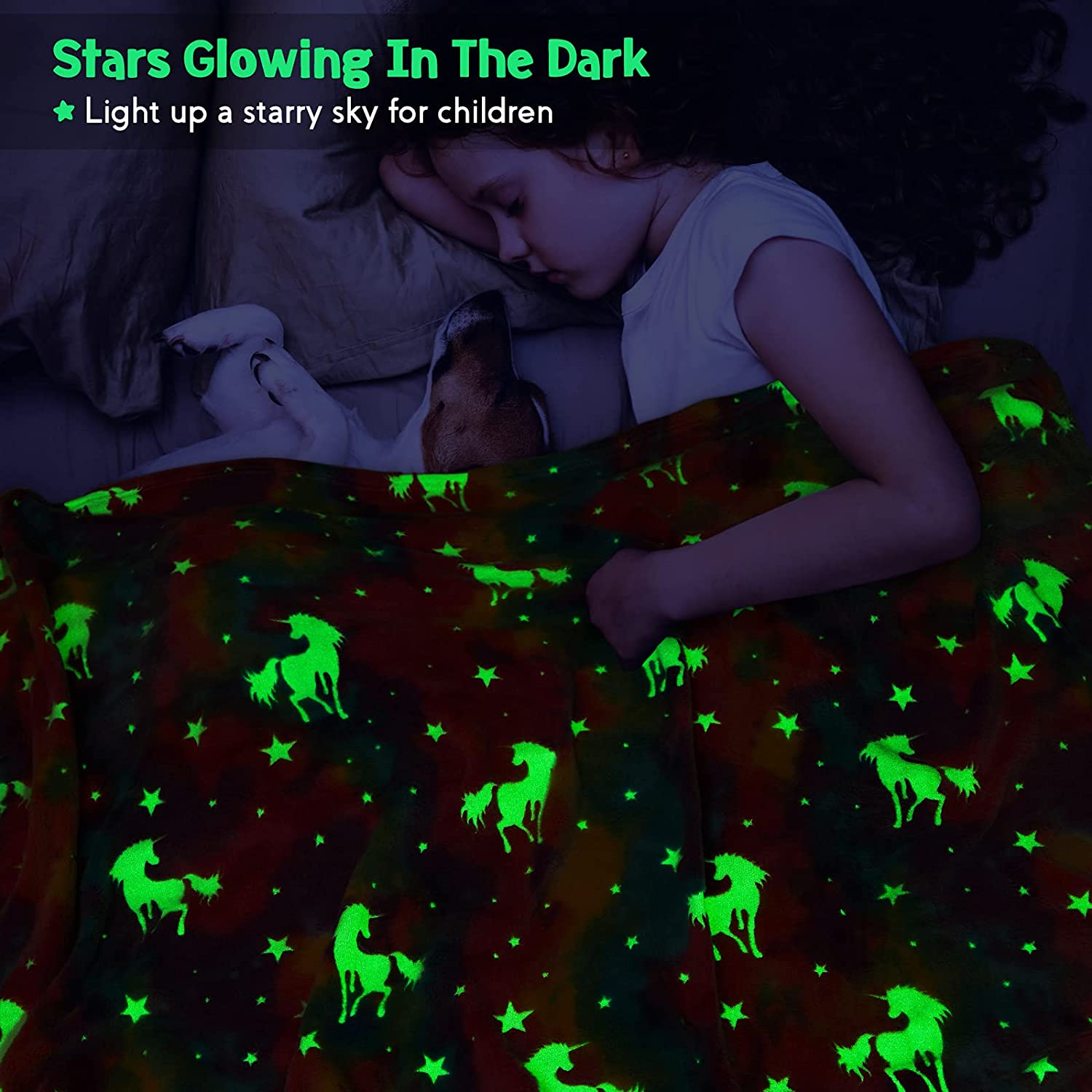 Kids' Night Partner, Safe and Fun.
The blanket stimulates the imagination of children and allows them to fall asleep in the company of the glowing unicorns and stars. The light on the blanket doesn't affect children's sleep, it makes them feel safer while sleeping.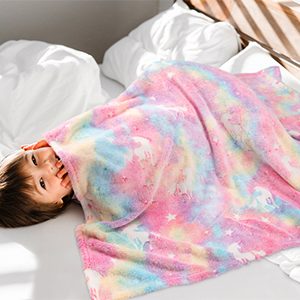 Glow in the dark blanket has brought a new fashion for kids. Lovely unicorns and stars pattern combined with beautiful color, It is a cool and fun gift for kids. Jekeno blankets are thicker than all other glowing blankets on the market and have better luminous effects.