Beauty Lies in Simplicity
Fine tailoring, impeccable craftsmanship and excellent material are the features of Sleepy Mill. From the perspective of customer experience, Sleepy Mill team is committed to creating the most comfortable sleep experience for customers.
OUR HIGH-QUALITY FABRIC:
The fluffy bottom is firm and not easy to lose fluff, the bottom is thick, the surface is smooth, delicate, and soft, and the warmth is good.
OTHER ORDINARY FABRIC:
The fluffy bottom is thin and easy to lose fluff, the surface is rough, the air permeability is poor, and the heat preservation performance is general.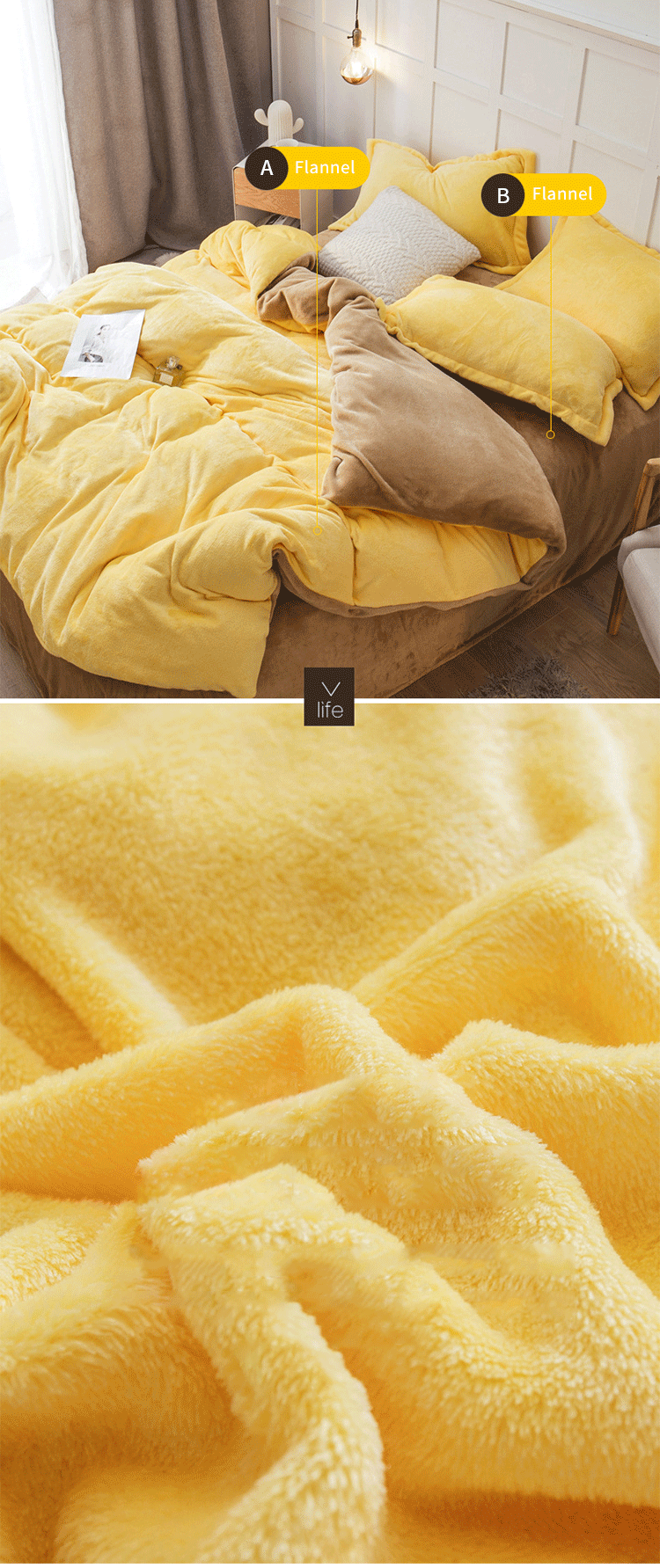 Why Sleepy Mill Gives You Better Sleep?
Ultra Soft: Made from advanced selected 100% polyester microfiber. This cover got a smooth soft feel after special treatment.
Breathable: Excellent fabric and latest textile technology let the air circulate more conveniently to keep your sleep from muggy.
Skin-friendly: Our bed sets use angel velvet with crystal velvet, and delicate crystal velvet as the B side, which fits your skin better and gives you baby-like care.
High Density: Different from the traditional plush bottom sparse and easy to lose fluff, we use high gram weight and high density short fluff material, the bottom is stronger, not easy to lose fluff.
Every Detail is Carefully Crafted for You
FRONT: Angel Velvet

Made from 100% polyester microfiber. The fluffy texture can bring a luxurious feeling both visually and in touch.

REVERSE: Crystal Velvet

Crystal velvet fabric is soft as a baby. The delicate material is more smooth and skin-friendly. Give you a sound sleep.

Hidden Zipper

The double hidden zipper could save your time and make it easier for you to take out the comforter and better place it, and it is more durable than the single zipper.

Secure Corner Ties

The duvet cover has a tie at each corner inside, which can easily fix the quilt and prevent it from gathering or moving.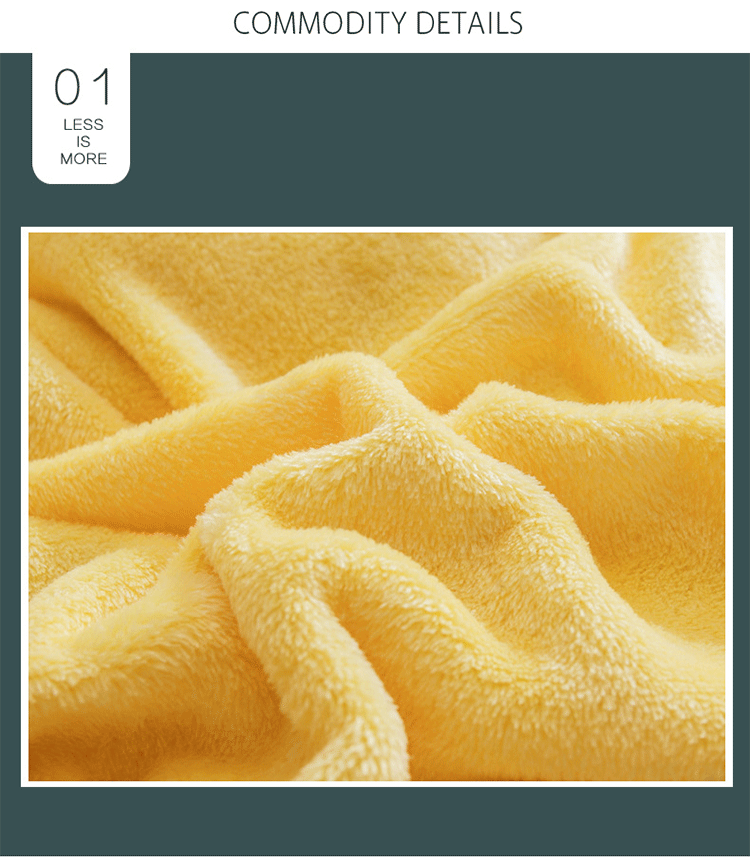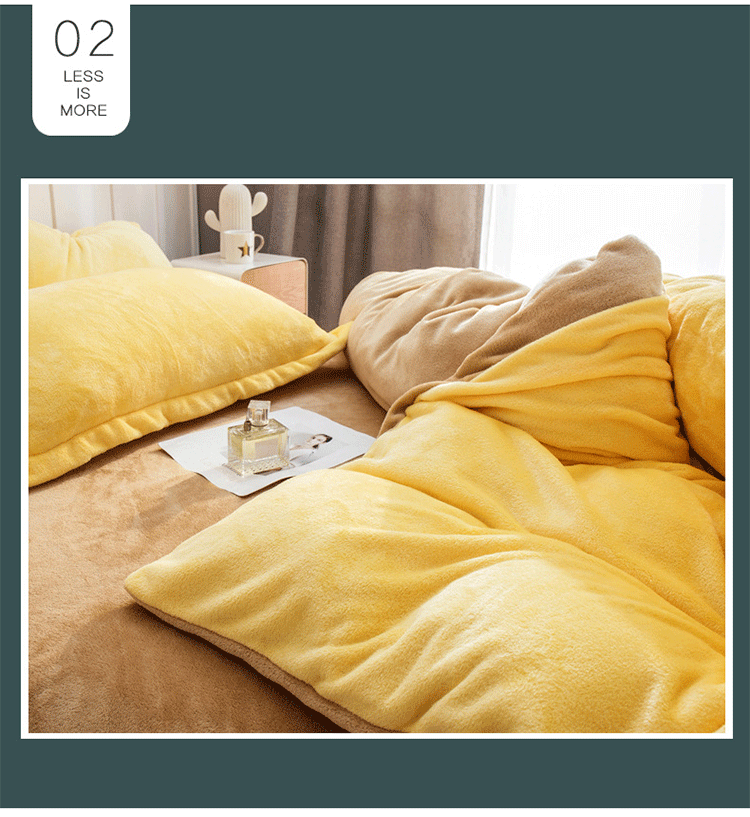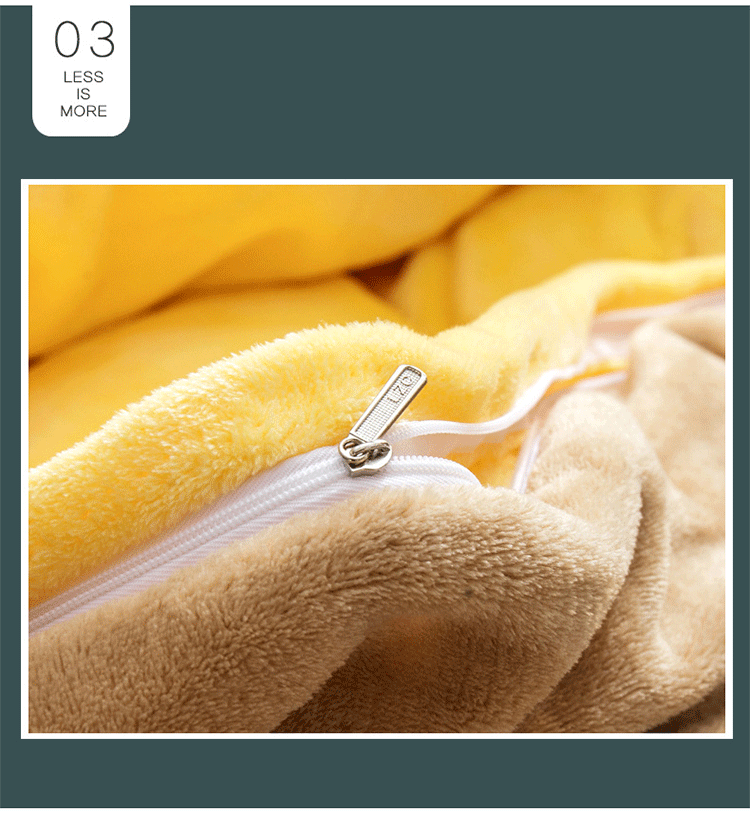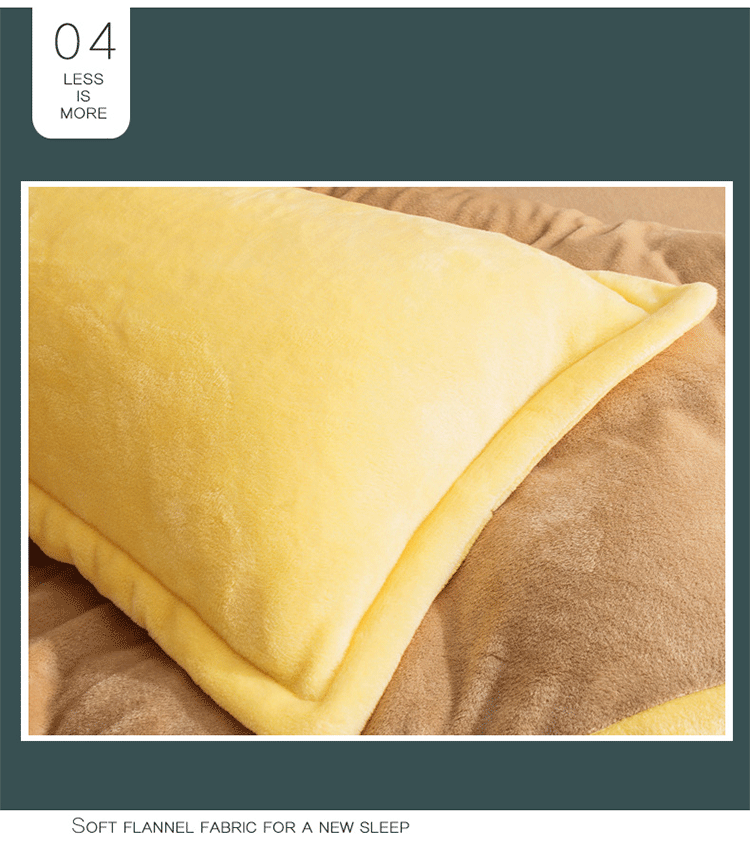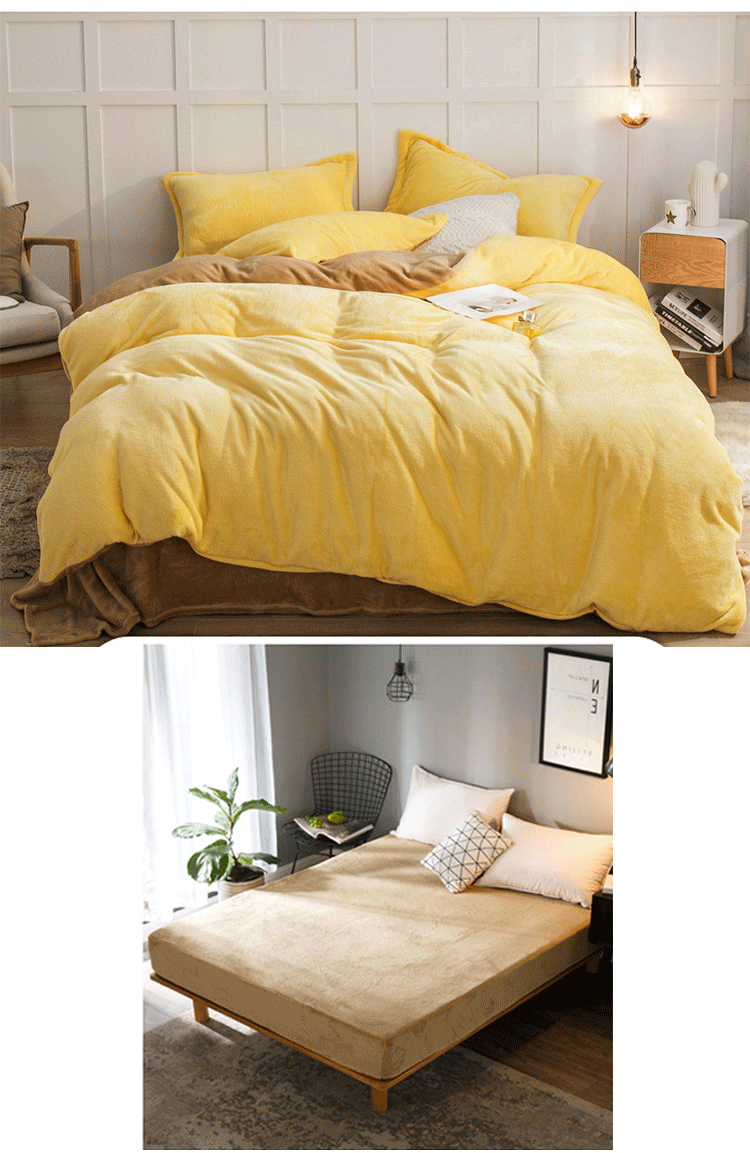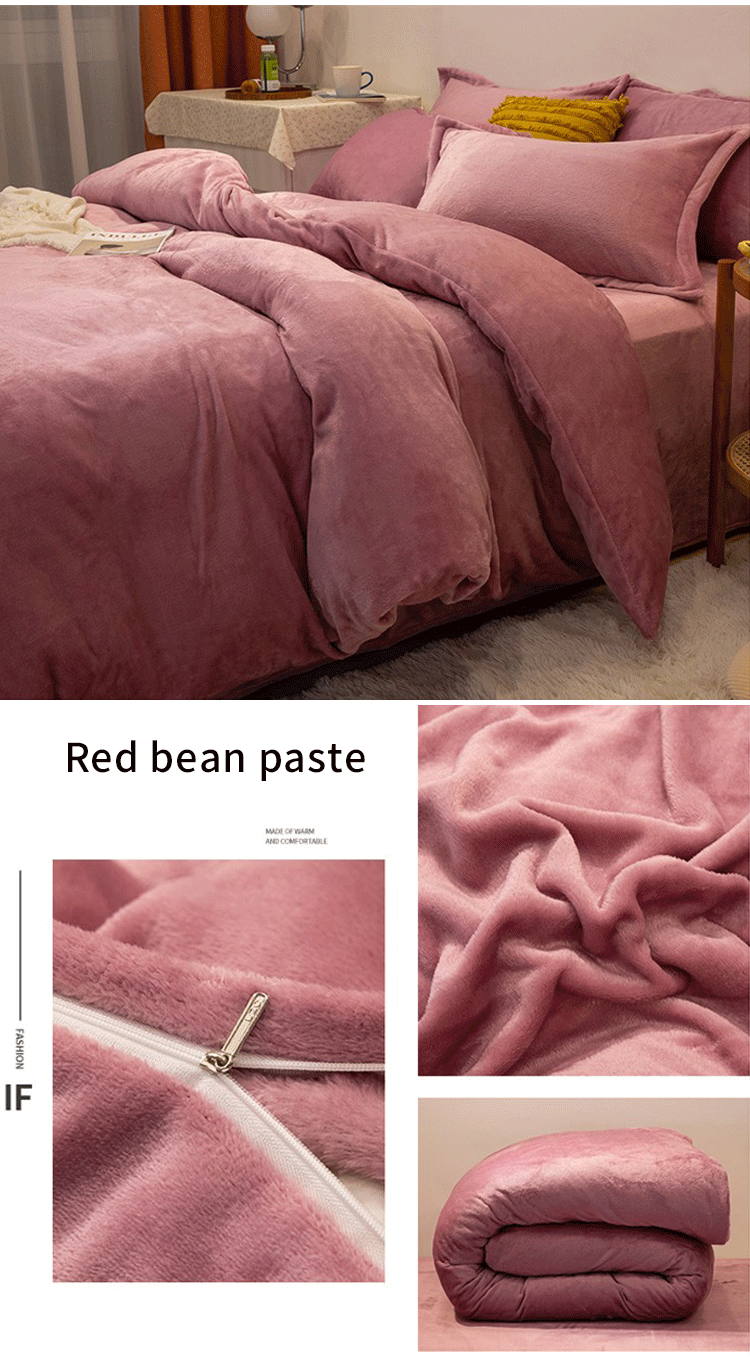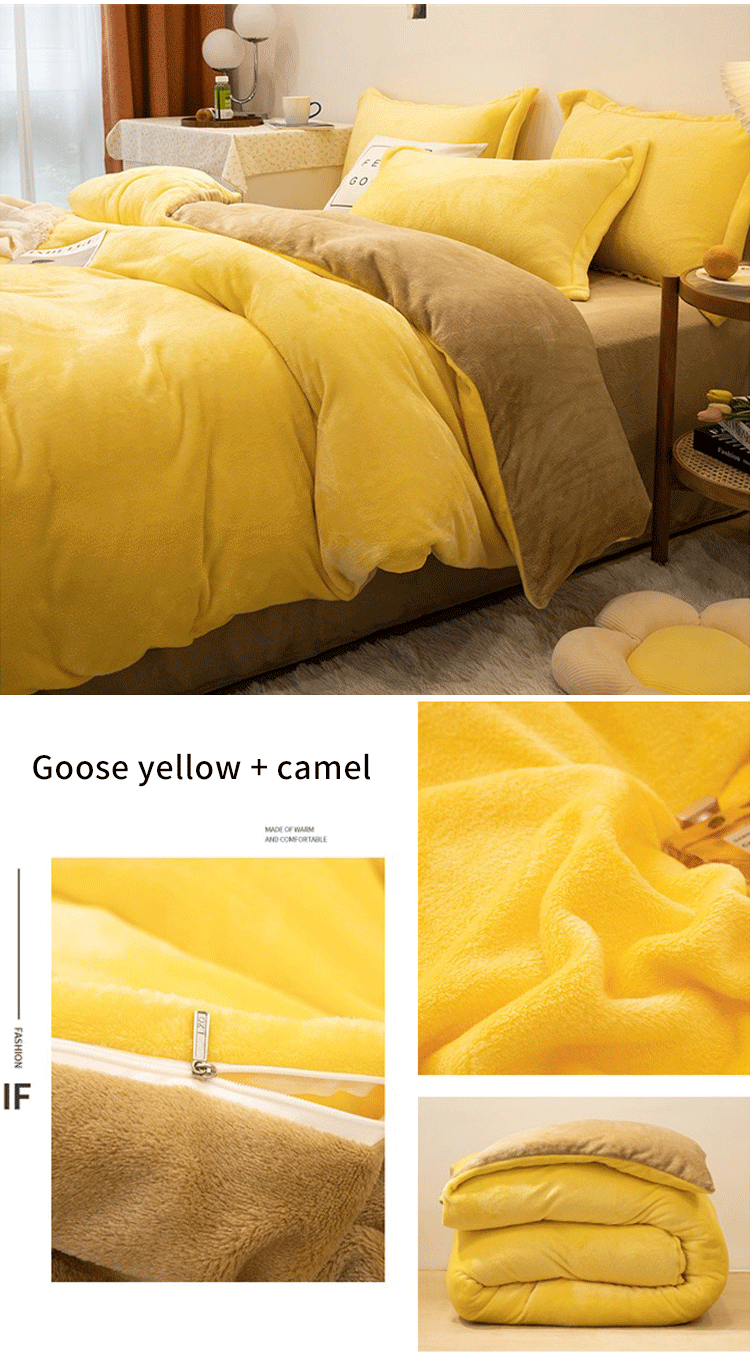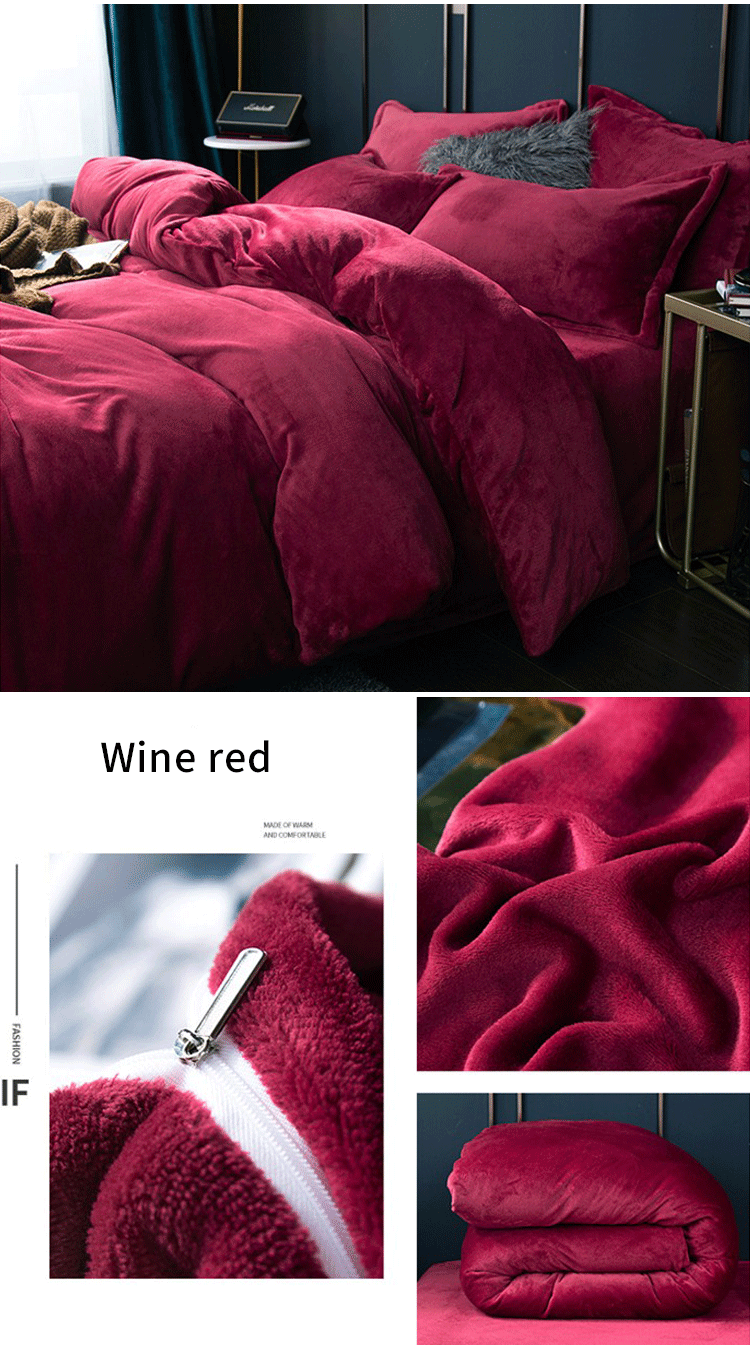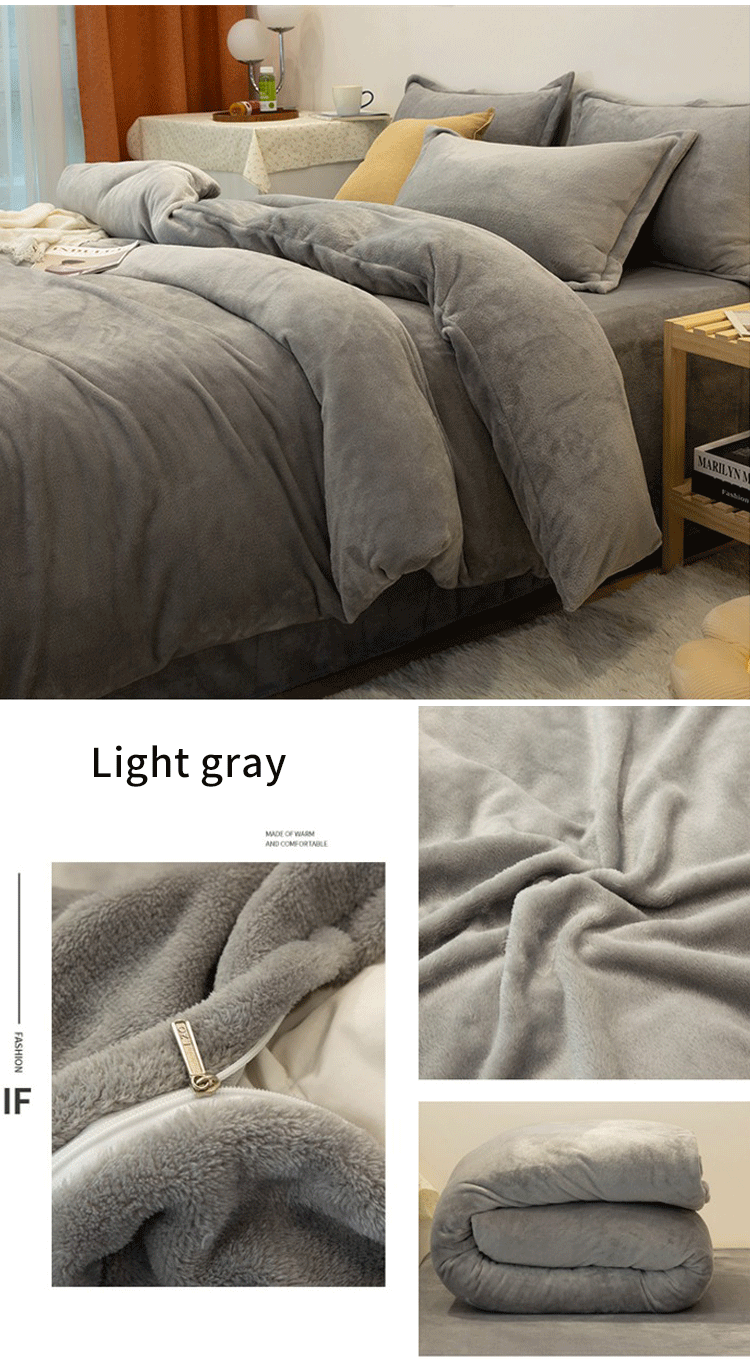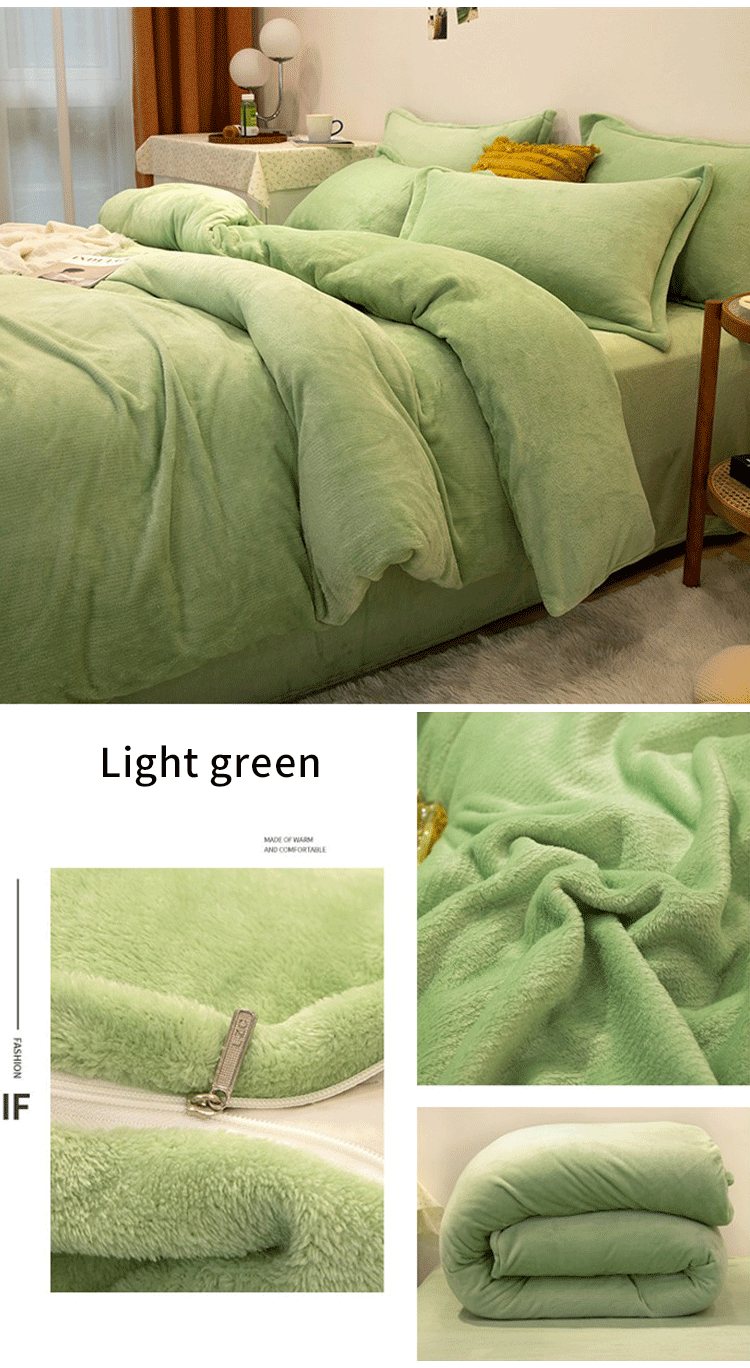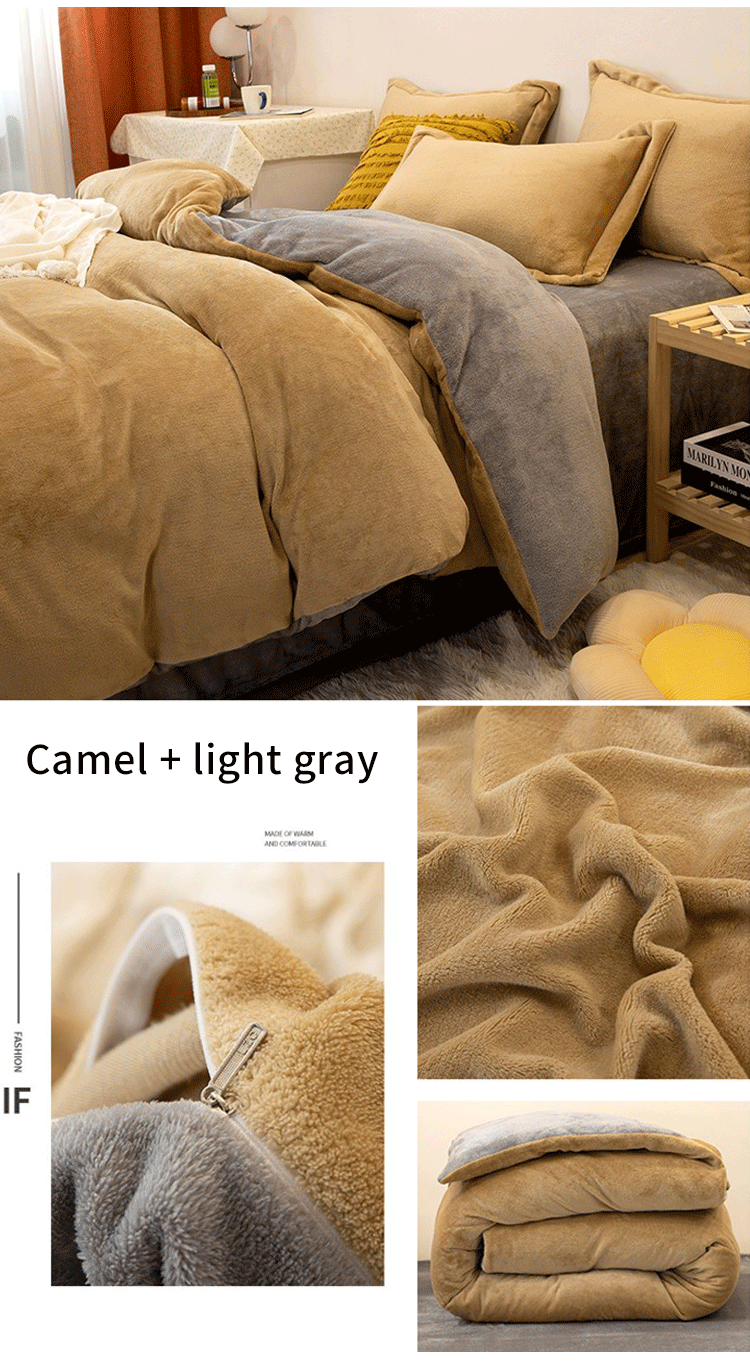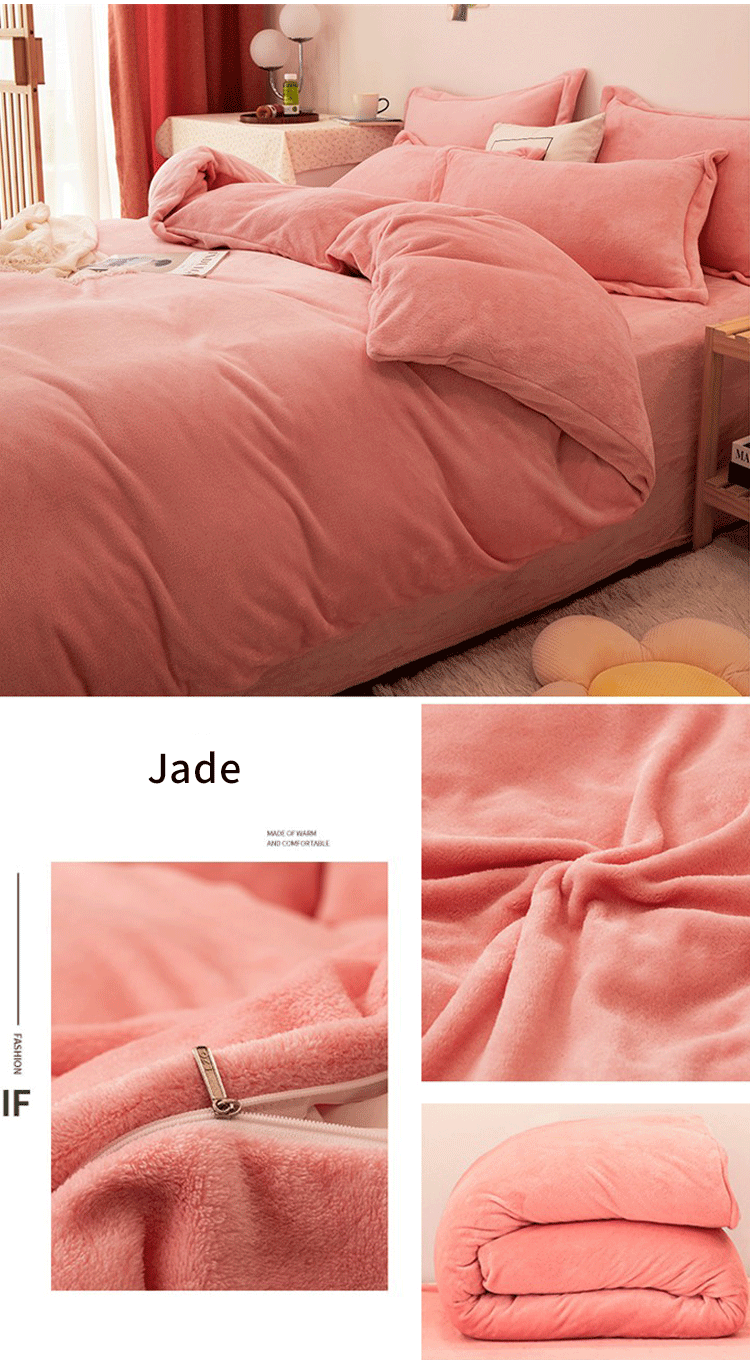 Grade: Premium
Size:
Queen Size 4pcs
1 piece Duvet Cover:200*230cm(80*90inches)
1 piece Fittdsheet:150*200cm(60*80inches)
2 pieces Pillowcases:48*74cm(20*30inches)
King Size 4pcs
1 piece Duvet Cover:220*240cm(87*94inches)
1 piece Fittedsheet:180*200cm(70*80inches)
2 pieces Pillowcases:48*74cm(20*30inches)
SHIPPING
Most of our products are hand-made and customized. As a result, please allow 3-7 working days for order processing. Below is our shipping details:
By sea: 35-45 days
By airplane: 7~14 working days.
Due to increased COVID-19 restrictions, we expect that some orders may take longer than usual. We are working hard to reduce delays across our delivery network and we apologize for any inconvenience you may experience. Once your order is dispatched, you will receive a shipping update on your phone or email.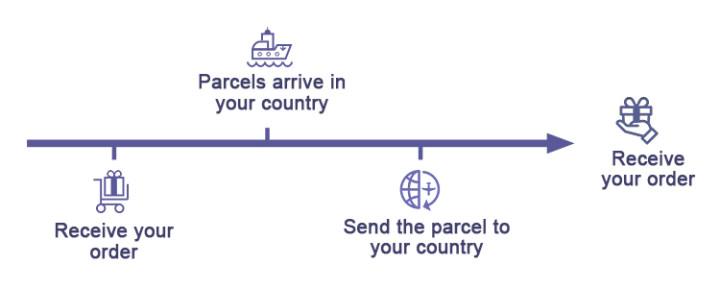 RETURN & EXCHANGE
All returns and exchanges due to change of mind are subjected to a 14-day return. Please refer to our refund policy for more details.
CUSTOMER SERVICE
support@sleepymill.com
WORLDWIDE SHIPPING